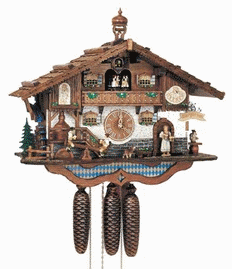 This Bavarian Chalet cuckoo clock is yet another wonderful example of the Anton Schneider Black Forest rang of Cuckoo clocks. Each Schneider cuckoo clock is hand carved from linden wood and rigorously quality tested.
Click here to buy this Schneider Bavarian Chalet Cuckoo Clock!
This link will take you to a merchant who uses Secure Sockets Layer (SSL), an encryption technology which provides buyer protection. They also provide additional liability protection.
With this clock the Bavarian chalet has a 'Biergarten' sign over the front door and features a waitress who serves beer each hour. Also there are beer drinkers dressed in lederhosen amusing themselves drinking beer on a teeter-totter. A dog stands expectantly looking at the waitress and the whole scene is wonderfully detailed
This intricately carved chalet has a balcony and with dancing people on it and above which the cuckoo emerges. The Chalet also has a pine tree and a water wheel behind a wooden fence. If you like cuckoo clocks with detail, you will love this clock.
On the front of the chalet there is a clock carved from antique finished wood.
This is an eight day musical cuckoo clock with weights which are pulled for winding. You have the option of using the manual night time shut off to avoid the clock keeping you up at night.
To mark the hour the cuckoo sings and the hand painted happy beer drinkers comes to life. There really is no doubt that this clock is a work of art and is a credit to the artisans who made it.
Black Forest Cuckoo Clocks are some of the most detailed, beautifully hand crafted cuckoo clocks available and this Bavarian Chalet model is no exception. The Schneider reference for this clock is Schneider 8TMT3413/9 Cuckoo Clock.
I have not seen this clock priced lower anywhere else and there is a 'Best price Guarantee.' This means that if you do find the clock cheaper anywhere else this merchant will match the price. You can also benefit from free shipping provided that you live in one of the 48 states of the USA that free shipping applies to. Shipping is within a few days and they tell you the date it will ship. There are additional shipping options available if you really want the clock quickly.
You are also protected by a year's guarantee from this merchant and if you don't like it, for the cost of shipping, you can return the product for a full refund.
Click this link to buy this very wonderful Bavarian Chalet Schneider Cuckoo Clock!